Darmasiswa UAD at The 5th UAD International Day 2014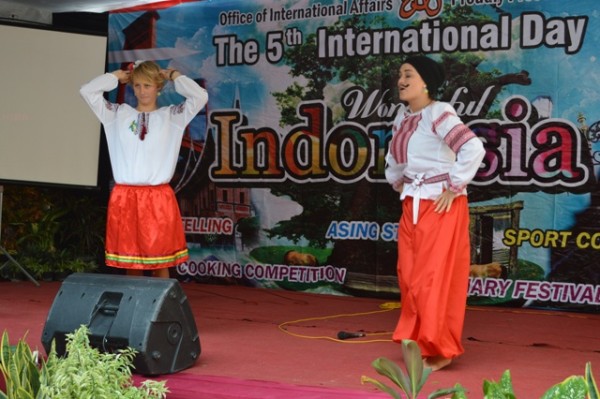 Written on December 7th, 2014Darmasiswa students UAD together with other international students actively participated in The 5th UAD International Day 2014 held at Green Hall Campus I UAD on December 6, 2014. They performed Tor-Tor dance, a traditional dance from North Sumatera, Indonesia. Beside that, two students from Ukraine also performed traditional dance from their country. Yeni, from Vietnam, also competed at the final round of story telling competition and finally became the runner up. Congratulation!
Also, the Darmasiswa cooking team became the Champion of Bakmi Jawa Cooking competition and their Tor-Tor dance performance was awarded as the most festive performance. Last, but not the least, the Vietnam culinary booth (Darmasiswa students from Vietnam) was also awarded as the most creative booth. About two weeks before the day, there were also some sport competitions that they also participated in. Moreover, they showed their capability in playing basketball. Bravo Darmasiswa UAD!