Darmasiswa Program of FBA UNMAS DENPASAR ( Faculty of Foreign Languages Mahasaraswati Denpasar University)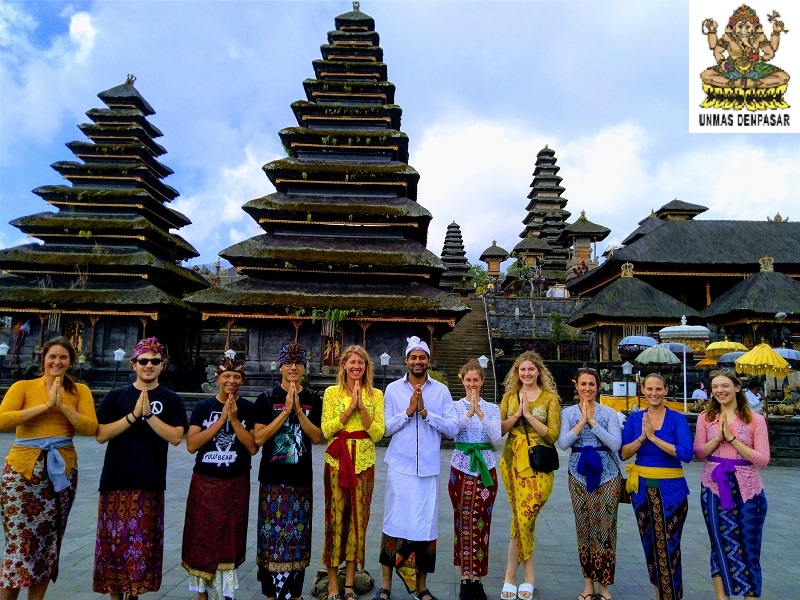 Program Darmasiswa FBA UNMAS DENPASAR (Fakultas Bahasa Asing, Universitas Mahasaraswati Denpasar)
Darmasiswa Program of FBA UNMAS DENPASAR ( Faculty of Foreign Languages Mahasaraswati Denpasar University)
The Darmasiswa program is a dynamic, immersive Indonesian language and cultural learning opportunity for foreign students.
It is situated on the vibrant island of Bali, Indonesia.
The first Darmasiswa STIBA Saraswati Denpasar program began in 2018 with thirteen foreign students from Europe and the USA.
"Studying at FBA UNMAS gives me the perfect blend of learning
and having fun. The lively campus is an extra advantage
to practice Bahasa Indonesia anytime and with anyone."
– Dipesh, from India 2019
The popularity of the 2018 program resulted in another successful student enrolment in 2019. Students came from various countries from three continents: Europe, Asia and Australia.
Intensive and fun Indonesian class with native speaking teachers
The Program begins the moment the students arrive in the capital city of Jakarta on the island of Java. Arriving from all over the world, at the opening ceremony, each participant is personally welcomed by the Darmasiswa team. For the first three days, they are introduced to the program and Indonesian culture in Jakarta. The students then travel to their respective host universities in various regions of Indonesia. The Darmasiswa students then fly together to Ngurah Rai International airport on the beautiful island of Bali. There the coordinator and Darmasiswa team welcomes the students at the airport, make necessary arrangements and assist the students in finding accommodation as needed during the time they are studying on the course. After the students settle for several days, they were invited to join the campus orientation, intercultural exchange day and begin to experience religious tours to famous temples around Bali.
Campus orientation for Darmasiswa students. Each Darmasiswa student is assigned one local native speaker as their buddy and interact with them. They provide support and encouragement for the Indonesian language learning and cultural acquisition for the foreign studnts.
Intercultural Exchange Day- Local Students of Mahasaraswati Denpasar University in collaboration with Fukuyama University students, Setsunan University students, JTS Nagoya students and Darmasiswa Students
Religious tour to the Besakih Mother Temple, Bali
Experiencing purifying rituals at the Tirta Empul Temple, Bali
"I feel really thankful for oportunity to study in Bali.
Bali was my dream, and I can not imagine something better than been
chosen for one year and study. I was lucky because my University is perfect.
They really care! They taught us a much! They were always here for us, and every
class was original. Our coordinator and teachers also we're our friends, teachers and family."
– Ladizlav, from Slovakia 2018
The Indonesian classroom fun extends into the market places, shops and cultural hot-spots with games and interactive activities in the great Balinese outdoors. These activities are related to the various topics taught in the Indonesian program training syllabus.
Darmasiswa students go to one of the local markets shopping for everyday objects. They can practice their Indonesian skills and can begin to master the art of bargaining. This is one of many popular activities as part of learning Indonesian in the local context.
Learning Balinese History is included in the context of visiting a local museum
"Darmasiswa is a great opportunity to spend a year
in paradise and learn so much. I have a chance to study
and practice language, plus I get to enjoy experiencing Indonesia's
rich and diverse culture. I'd recommended this to all the young people
from around the world."
– Tamara, from Serbia 2019
Besides Indoor and outdoor activities, Darmasiswa students do cultural activities as the part of our program.
These include yoga and traditional dancing classes, music and cultural festivals.
Yoga class at the Park
Dancing class with local instructor
Witnessing Balinese Cremation Ceremony
Darmasiswa students of FBA UNMAS Denpasar trying Balinese music instruments
Darmasiswa learn how to make Balinese offerings
Darmasiswa Students of FBA UNMAS DENPASAR also make field trips and mingled with the locals. The fieldtrip is a reward for finishing each level.
Field trip to Pasraman in Bali
Field trip in SD 3 Saraswati Denpasar (Interact with the local elementary students)
Field trip to Jatiluwih rice field terraces and mingle with locals
White water rafting in the Ayung River, Gianyar
Field trip to Tabanan- cooking Balinese food with locals in a traditional Balinese house
The Faculty of Foreign Language Mahasaraswati Denpasar University has many activities run by the local students, such as Clean Up Bali, HIMAPALHI, Artez, SEC, Japanese Club, any of which the Darmasiswa students of FBA UNMAS DENPASAR are welcomed to participate in.
Darmasiswa students took part in river cleaning with Clean Up Bali Environmental-Club
Darmasiswa students joined in hiking and camping on Batur Mountain with the HIMAPALHI Club
Darmasiswa student as a model for Body Painting Competition at ITDC Nusa Dua, Bali
For further information of our program go to: http://www.stibasaraswati.ac.id/darmasiswa/darmasiswa-program
( temporary website since our official website is under reconstruction)
Darmasiswa program in Faculty of Foreign Languages Mahasaraswati Denpasar University or FBA UNMAS DENPASAR is the continuation of Darmasiswa program in STIBA Saraswati Denpasar.
(http://www.stibasaraswati.ac.id/darmasiswa/campus-profile)