Darmasiswa RI Academic Year 2018/2019 Opening Ceremony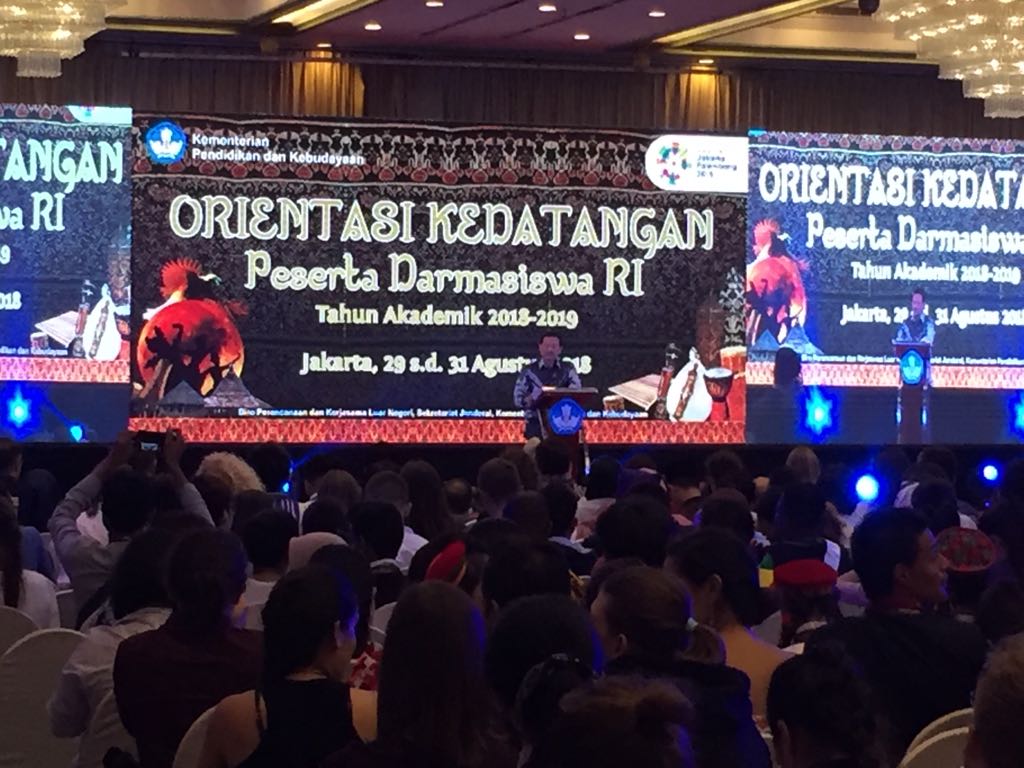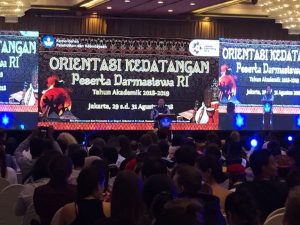 Jakarta — The Ministry of Education and Culture provided briefing to 679 awardees of Darmasiswa RI 2018/2019 from 94 countries on the Arrival Orientation, Thursday (30/8) in Jakarta. All of the participants arrived at 29 August 2018. In the next day, Thursday 30 August 2018, all the participants joined the Orientation workshops of Darmasiswa RI 2018/2019 in Jakarta. On the occasion, the students were given an introductory of Indonesian culture and local wisdom as their prior knowledge for living in Indonesia.
"I pleased to offer a warm welcome to the Awardee of Darmasiswa Programme academic year 2018/2019," greet the Secretary General of Ministry of Education and Culture, Mr. Didik Suhardi, to the participants in the Opening Ceremony. Mr. Didik revealed, through the existence of this programme, the relation between Indonesia and the allies countries will be improved and give the contribution to the process of world peace and order. "The Ministry always commits to embody those relationship, and Darmasiswa Programme is one of the way of the realization." said Mr. Didik. Darmasiswa RI that has been held since 1974 is a non-degree scholarship programme for one year by the Ministry of Education and Culture to the foreign students from related countries to learn Indonesian Language, Art, and Culture in several universities and institutions in Indonesia. This programme also becomes the reciprocal form of scholarship between Indonesia and related countries, furthermore, it has developed into the soft diplomacy programme or people to people contact especially in Education and Culture aspect.
The Head of Bureau Planning and Foreign Coorporation, Ms. Suharti added, when the programme has finished, the participants who want to continue their study in Indonesia are able to look for any sponsor or being financed by their own country. She also revealed, this Darmasiswa Programme can being the way for participants to introduce their own culture to the people arounds. Suharti also said, all the participants will get some cultural training before directly join the society. "They will be teach Indonesian Language firstly, and learn Arts and Culture of Indonesia in several universities and institution." said Ms. Suharti. The presence of ambassadors as the representative of every country completed the Orientation of Darmasiswa Programme. The delegation from Ministry of Foreign Affairs, the State Secretariat, ministry of Law and Human Rights, and also the elements of Indonesian Police Officer that become partner of Darmasiswa RI implementation. "I expect this programme will continue and commit more important role to support Indonesia for increasing the development of Bahasa Indonesia and its cultural diplomacy overseas." Ordered Mr. Didik.
Source :